While some people make do with just a toothbrush for their daily beauty routine (ew), most people need more – facial wash, moisturisers, serums and what-have-yous.
Some people, however, take it to the extreme to look on fleek with products such as La Mer's Crème de la Mer at RM1,200 and Estée Lauder's Re Nutriv Ultimate Diamond Transformative Energy Crème at RM1,880. To put that in regular people context, that's enough to buy you Boba Tea for the entire year.
Here's a quick run-through of some of the most popular luxury beauty brands out there: you have La Mer (miracle broth made out of sea kelp), Sulwhasoo (K-beauty cult brand all about ginseng), Shiseido and Clé de Peau Beauté (J-beauty all-time favourite), Estée Lauder, La Prairie (caviar-based skincare) and SK-II (famous for its life- and skin-changing Pitera Essence).
Is that RM1k+ cream or that RM600 mask really worth it? Can these consumers, and their bank accounts, handle the amount they've been billed?
And if you're that frustrated boyfriend/girlfriend who asks, "Why on earth did you spend this much on one single product? Are you crazy? What are you going to eat for the rest of the month?", you're about to find out why.
We asked over 15 people and these are their collective answers:
---
1. The more expensive it is, the better the product.
Example: the brand La Prairie focuses on one ingredient such as caviar. It's already one of the most expensive delicacies in the world. Yes, the salty fish eggs we can't even afford to look at, let alone eat with saltine crackers, smoked salmon and a glass of champagne. So imagine if that actually gets turned into a paste you smother all over your face!
Another example is La Mer, with products made out of hand-harvested sea kelp from specifically the marine-protected waters off the coast of Vancouver.
With all that talk about rare and atas ingredients, they must be better than our normal Nivea or Neutrogena, right? Our readers seem to think so.
"Well, there is that conditioned perception that the more expensive something is, the finer the materials or ingredients used thus delivering better results or as per current craze, more organic, clean ingredients that are less harmful to the skin and less intrusive," says Qariatul Syakirah, an employer branding manager.
This is backed by Vanessa Lehl, a client services executive, who claims, "I would go for them because they're quality products. These products are expensive because of their potent ingredients that work."
---
2. Sometimes, it's about status and self-esteem.
If you think we're lying, here's an actual study that was conducted and published by the Journal of Experimental Social Psychology, which proves that low self-esteem is a big factor in whether a person will buy luxury goods. It doesn't even have to matter whether they can afford it or not.
Millenials living paycheck to paycheck will find themselves so much happier after buying that one very expensive cream product, or a lotion just because they feel an increased amount of self-worth, self-esteem and belonging.
Even the answers we received for this point were point-blank "Yes, because I can", and "Yes, because I'm worth it." And, as the great literary figure of our time likes to remind us: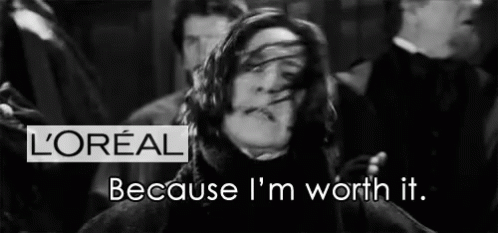 Brand director Choulyin Tan supports this claim, "It's a personal sense of pampering myself when using luxury branded products. Again, it's the perception, because I spent a lot on the product, I am putting 'gold' on my face, giving my skin the pampering it needs to look good and feel good."
For others, it just means that you're higher up in the social ladder. If you can afford one single Chanel product that others have to work months for, you must be somebody who would use #ballerlife #baller #ballin' #richkidsofinstagram.
---
3. It's the ultimate retail therapy.
The internet has just made luxury more accessible to the masses, and with ads that skillfully convince you of the fact that, "Hey, you do need this RM2k cream, though", fixing your retail bug is just a click away.
Consider this situation: you're feeling down and blue, and you have the option of purchasing a RM50 cream, or a RM500 cream. Which one would make you feel better? Yes, RM50 would make you feel better about your finances, but the RM500 would make you feel like you're, well, floating – as told to us.
Plus, it has a better reward system, don't you think?
In case you don't believe us (again), we found another study conducted by scientists at the California Institute of Technology and Stanford University. It showed that people evaluated the taste of wine better, after being told that it was pricey. And, if they were to undergo a brain MRI scan at that time, it would've shown that their pleasure was doubled – just because they were drinking a more 'expensive' drink.
In some cases though, as seen IRL, some people buy expensive beauty products solely for its packaging, and put it on their dresser simply because it looks pretty.
---
4. It's done 'under the influence'.
Not necessarily alcohol, but mostly through Instagram and Facebook. The age of Instagram and social media has allowed for brands to connect to their audiences in the most intimate way possible (through non-stop scrolling before bedtime). Copywriter Rachel Ng tell us exactly this, and while the public generally has Instagram envy, they also like to copy.
The influencer life seems like a nice dream that can never be achieved, but owning a product personally endorsed (or advertised) by a person with 5 million followers may just be the key to being that much closer to the dream life… and dream skin, dream face – whatever it is that they want to achieve.
---
The Beauty Of It All
Some think of it as a reward. They work 9 to 5 all day every day and struggle to find meaning in life and finally find it in the form of a moisturiser that is made out of the tears of angels, for example. Some use it as a statement – 'I have the money for it, therefore I buy'. Some may not even be able to afford it often, but they make up for it by budgeting elsewhere. Others look to IG influencers and are influenced.
No matter what your reason for buying luxury goods are, just remember that if it makes you happy, then so be it. As long as you're not spending crazily and then ending up eating Maggi for the next few months, though.
---
Special thanks to those have contributed to this article, and Choulyin Tan for providing the feature image. Follow her on IG here.